Hello everyone! How are you all doing? For anyone following along with this challenge, how was the first month? That's right, the first month is over, can you believe it?
I think that January might be one of the harder months, just getting into the groove of the challenge, forming a new habit. My January was full of ups and downs, and I know I didn't get to knit as much as I'd hoped, but I still managed to finish this month's goals. As promised, I do have a picture of my completed pieces: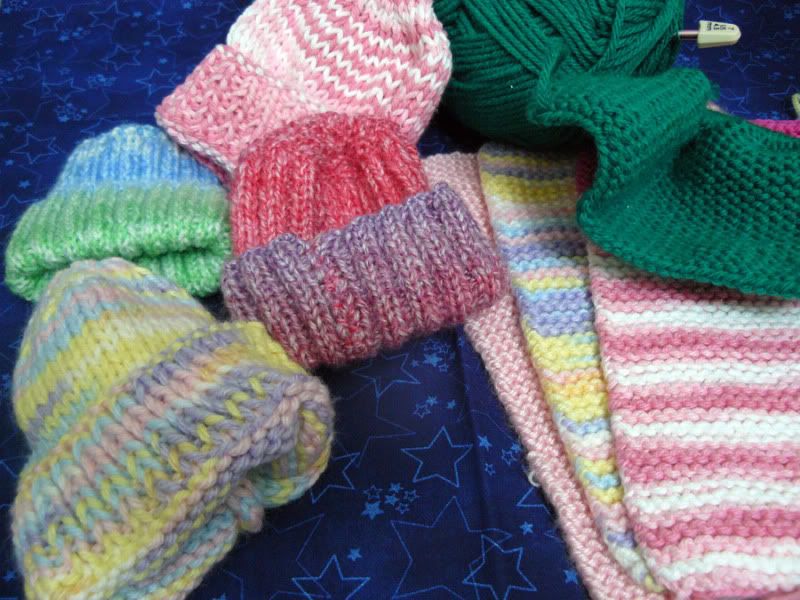 ...4 beanies, 3 squares, and that green stuff on the needles at the top? Another square, just not quite finished. I've used a few different yarns so far, my favorite is still
Caron's Simply Soft
. I just love Simply Soft. I find it easy to work with, truly soft (I don't have to bandage my fingers when I use it, unlike almost all other yarns), great colors, washes well, drapes well, is warm, and
cost-effective
. Simply Soft has a lot of yards per skein so it goes a long way! I also enjoyed working with
Lily's Sugar 'n' Cream
yarn. I used it for a baby beanie and then the variegated pink square. The drape and ease of the square pleasantly surprised me, so I'll probably find myself doing that again. I also use this yarn for pattern dishcloths, so the difference a couple needle sizes makes in texture was rather interesting. My unfinished green square is
Impeccable
. I don't really like it, but it was 29cent clearance yarn, so I wanted to put it to good use. I do have to bandage my fingers when working with it though, which is a pain. My variegated preemie beanies are
Bernats Baby Jaquards
, which was alright to work with, although not as soft as I had initially thought. Cute colors and lightweight though, which is a plus. I may be buying more.
As we move into the month of February, I feel like I'm off to a good start, and hope to keep the momentum going. I hope everyone else can too! See you all next week!